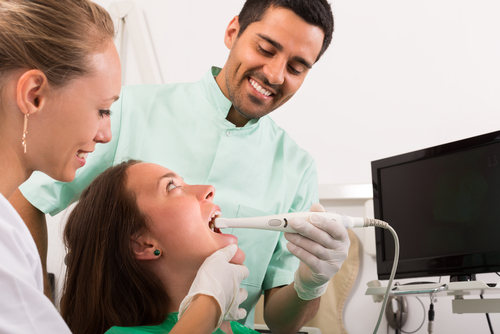 Traditionally, patients are educated about a dental procedure through verbal explanations and images such as x-rays and dental impressions. With the advancement in dental technology, patients are able to view the procedure as it happens. This is made possible by the intra-oral camera. Dentists are finding this modern tool very effective in educating and allowing patients to have an active role in deciding about their treatment options. The use of an intra-oral camera can allow you to view your own dental conditions under better magnification on a TV or computer screen, as compared to viewing it from a foggy dental mouth mirror. An intra-oral camera can be magnified up to a hundred times. You will be able to see the challenges that your dentist is faced with.
What benefits will patients get from using an intra-oral camera?
Although the intra-oral camera has a number of uses, it is important to note that this does not take the place of other diagnostic tools. Other tools can be used to better understand your current dental condition.  The use of the intra-oral camera will provide a more magnified, clear, and a closer look at your tooth.  The intra-oral camera also allows us to save your images and store it in your patient files.  These stored images can also be shared with other specialists, and emailed for purposes of insurance claims.
How is an intra-oral camera used?
The consultation starts with a brief routine interview taking in basic information about the patient's medical and dental history, and reason for coming in.  An image of the full face will be taken first using the intra oral camera and this will include the smile, the upper arch and the lower arch of the tooth.  All the images taken will be left on the screen for the patient to view while the intra oral camera does its work.  Your dentist will also point out to you areas of concern, to give you a better understanding of the extent of damage.
Images of any dental restorations performed on you will also be checked to see if they are still intact.  After this, images of problem areas will be taken to give the patient a clear picture of the current state of the tooth. This will serve as reference for the patient's file for follow-ups.  After each treatment, images using the intra oral camera will also be taken for reference.