A little guide to a year of cleaning your space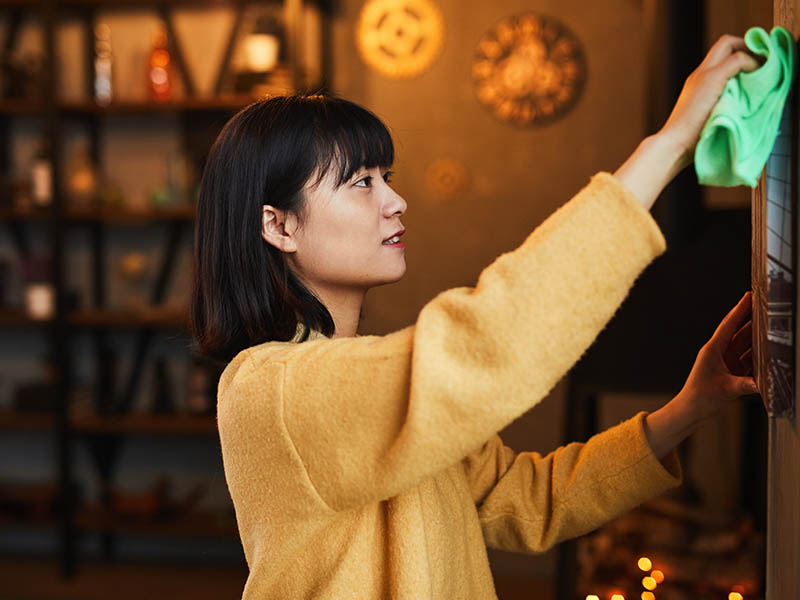 We all wonder, either as new homeowners or old ones, what all we are supposed to be cleaning throughout the year. Well, we did a little research and made a helpful guide on what all we should be doing daily, weekly, monthly, and so on… check it out.
DAILY
clean dishes that are in the sink and throw that sponge in the dishwasher every once in a while. Gnats and fruit flies love your unclean dishes
wipe down bathroom and kitchen/dining surfaces daily to keep that granite you took 2 months to pick out looking new
phone screens, remote controls & car keys ( bet you never cleaned those) should probably get a quick wet wipe or alcohol wipe down every day
some people do a load of laundry a day to keep those baskets low- worth a try to see if it works for you
WEEKLY
dust all exposed surfaces that need it
vacuum main area floors and maybe take a mop to it all while you're at it
sheets, pillowcases, duvets, and towels- all in the wash
throw away sponges from the week of dishes
floss your teeth
MONTHLY
wipe down baseboards and pantry shelves
replace water filters, clean out tea kettle, coffee maker wipe down, microwave wipe out, and run something through that disposal
mop or vacuum the rest of the house
clean throw blankets and things that get used not as often, but do get used enough to need to clean them
QUARTERLY
clean mattress pads, shower curtains
clean out fridge, freezer and oven
replace toothbrushes, air filters for HVAC, cosmetic sponges, and loofahs
whiten your teeth
BIANNUALLY
clean outside and inside of all windows
curtains and drapes cleaned to avoid dust accumulation
gutters need a blow out
replace refrigerator water filters and toilet brushes
go see your dentist (had to throw it in there)
ANNUALLY
wipe down walls and doors
clean all area rugs
clean out garage and shed
replace hair brushes (how long have you had that one you just used this morning?)
de-clutter and donate things you're not using or cleaning on this list
We are doing our best to continue to provide useful information to our patients in order to keep you healthy, clean, and happy- if you ever want to see a blog from us, let us know and we will write it.
Visit Welch Dental Group today – a safe, comfortable, and welcoming environment for every dental patient, including you and your family. Here at our practice, you will feel involved in your care when you are given a choice in the way your treatment is provided. Call us at 281.395.2112 or fill out this contact form to schedule an appointment.