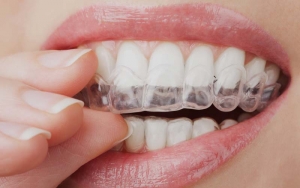 The Welch Dental Group has the perfect solution for you to have an enhanced smile in signficanly less time than it takes metal braces to straighten your teeth. Invisalign™ is one of the newest, most innovative methods of teeth straightening in the market today. It involves the use of a series of simple clear plastic aligners. This system has gained huge popularity due to its effectiveness as an accelerated teeth straightening treatment.
What are the advantages of using Invisalign™?
Invisalign™ is an ultramodern way of treating crooked and misaligned teeth. It also offers the following advantages:
Aligners are virtually undetectable when placed inside the mouth.
The aligners are conveniently removable, doing away with most food restrictions.
Cleaning is easy.
Invisalign™ aligners now only takes between 12 to 18 months before the desired results are achieved.
How does it work?
First, the dentist takes x-rays, photographs, and dental impressions of the patient's teeth to use as a basis to make the aligners.
At the Align Technology laboratories, these images will be put into a scanner that will make a 3D recreation of your teeth.
The software then creates a virtual treatment plan for you. This simulates the movement of the teeth in stages allocated within the prescribed treatment period. A corresponding plastic aligner will be created for each stage of the treatment plan, .
The first set of aligners will be inserted into the mouth and used  for about two weeks before switching to the next set. This switching process will be repeated within a two-week interval for the rest of the treatment period, until the desired results are obtained. Teeth are moved gradually into their proper positions.