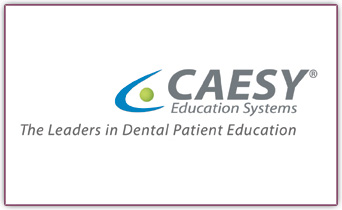 Digital technology is involved in all aspects of our lives and we have integrated this advanced system into our practice to ensure that we are able to provide only the best dental care to our patients. Part of the integration of digital technology into our services is the use of the Caesy Education System which does not only make our operations and treatments more efficient, it also makes all our patients involved in their dental treatments plan as well.
The Caesy™ Education System is a set of tools that are designed to help patients be more educated and help them answer any inquiries they may have on the procedures. We have found that the integration of the Caesy Education System has reduced the apprehensions and anxiety that our patients have with their treatments because they are provided proper information and all their inquiries are addressed accordingly.
What are the different tools that are included in the Caesy™ Education System?
We have integrated the use of the Caesy™ Education System at all points of contact in our office  in our efforts to provide only the best for our patients.
Patients in the waiting room can view the Smile Channel which will educate them on the different treatment options that we have available and how each of these procedures can give them bright and healthy smiles.  The Smile Channel will also showcase how good dental health contributes to the overall wellness of each patient to help you better appreciate the care that you put into your pearly whites.
Once in the dental chair, you can view Caesy Perspective, which will provide you with live action videos in 3D of the procedure that you are about to have.  After viewing the instructional video, you will have a better understanding of the procedure and will have more confidence about it.
The Caesy Enterprise is a module that allows us to customize presentations for all our patients depending on their treatment plan and history.  Each presentation can be personalized to contain patient's pertinent information, dental examinations such as x-rays and dental images, treatment plans, post-treatment instructions, as well as financial agreements.  These modules can be copied onto a CD or printed out, according to the patient's preference.  Each Caesy Enterprise CD can hold up to 10 Smile Channel and Caesy presentations.  This take-away video allows patients to discuss their treatment plan with family members if they want to consult them on the treatment plan that was mapped out for them.